Business mogul Chris Kirubi has shared his thoughts in regard to relationships and marriage.
The Capital FM owner was speaking on Churchill show when he shared his journey to becoming among top Kenyan billionaires and as well as his family and personal life.
Speaking on marriage, Kirubi says that marriage is not about testing the waters but agreeing to go into a jail with no plans of breaking free from it.
"Marriage is enslavement you have to be careful you have to agree to go into slavery, into jail but not to go in to taste and get out it is a permanent affair. You are jailed for life" he stated
Kirubi also defended the polygamous culture in reference to the Luhya culture stating that marrying one woman is more of a missionary thing not as per the African culture.
Defending his statement, Kirubi said that women being more than men in the population, men need to take responsibility and make sure that their women are well taken care of.
He however says that the good thing about such a union is when a man is lucky enough to get a good woman then there is so much pleasure from it and the lovebirds are able to grow together.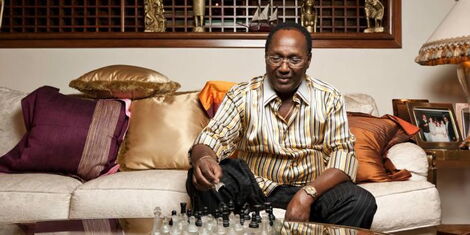 Although not so much is known about his relationships, some sources reveal that he divorced his wife years ago. According to him, even while growing up, marriage was something he did not want to rush.
In a previous interview Kirubi also described marriage as a blessing but only if you get a good woman.
"If you are lucky, God will bless you with a good woman. If unlucky you will find yourself in jail. It's like some ladies go to the military before getting into marriage." he noted
In a rather interesting revelation, Kirubi disclosed that he had so much love for Ugandan women because of their politeness. He also agrees that Kenyan women can be good only that Ugandans beat them by knowing how to treat men so well.
As a young Kirubi, he recalls that he was such a handsome man and women could not help it but be after him. Being rich and with so much he has achieved, Kirubi has been such a force to reckon.
Years back, Huddah had expressed her love for the billionaire stating that she wanted to get married to him.
As he warns people to be careful about relationships and marriages, Kirubi had previously stated that people who rush to get married risk ending up with the wrong partner.