Yesterday, Mbita MP Millie Odhiambo caused a stir after insulting President Uhuru Kenyatta, in a rant that was well captured by various local and regional media outlets. Millie, who had arrived in parliament with fellow opposition MPs to obstruct their Jubilee rivals from making amendments to the election law, lost her cool when she saw cameras and unbolted all manner of profanities at President Kenyatta.
"Uhuru does not even compare to me wacha Raila Odinga , mwambie Uhuru yeye ni mshenzi , mwizi, ni fisi and my consents tell me he is extremely stupid (Uhuru does not even compare to me let alone Raila Odinga, Tell Uhuru that he is foolish, a thief and a hyena),"She barked as cameras rolled.
Her actions did not auger well with a cross section of the Kenyan population as Jubilee supporters took issue with her. Gatundu South MP Moses Kuria, a controversial Jubilee politician ailing from severe verbal diarrhea was among those who retaliated with a fierce attack on Millie. Moses Kuria took to his Facebook account and opened fire on Millie. The MP who has never shied away from airing his controversial sentiments, used very mean and vulgar words on Millie, threatening to do the worst to her genitals.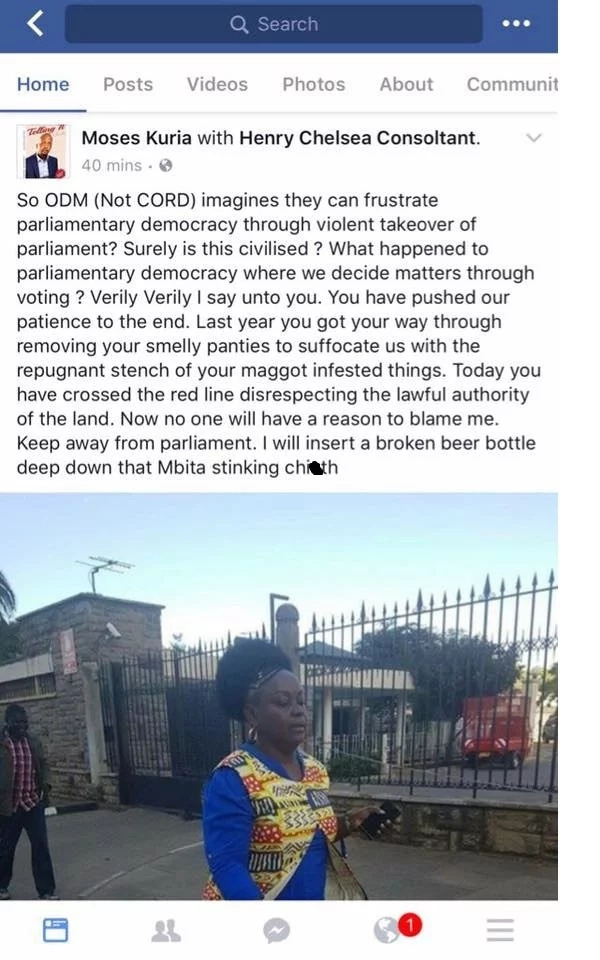 However, Moses Kuria pulled down the post moments later but screenshots of the same had already gone viral on social media.
Do you have anything to add or comment about this article? Let us know below.
comments